FrozenPlain has released Obelisk, a MIDI plugin instrument that harmonizes input MIDI and outputs it to your synths. It is designed to be a flexible way of experimenting with chords and harmonies.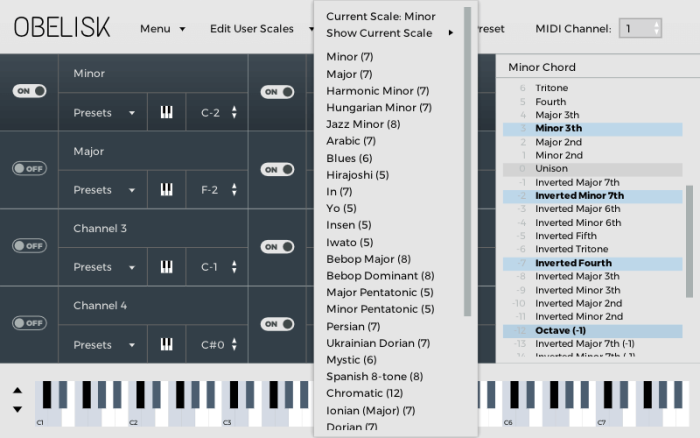 Obelisk is a MIDI instrument designed to make it easy to experiment with harmonies. Being only MIDI, it can connect to any synth that you like. As you play keys into Obelisk, each note will be harmonised with the intervals that you pick. As well as this, Obelisk can be set to constrain all output to a given key and scale meaning it will be guaranteed to fit the rest of your music.

As well as the core features, Obelisk has many aspects designed to make it a pleasure to use, such as a resizable GUI, loads of chord and scale presets, and the ability to make your own chords or scales. After hovering over a control for a moment, Obelisk will show popup tool-tips explaining the function of the control.
Obelisk features
Very easy to use, no music theory required.
Algorithm to constrain chords to a key and scale.
Resizable GUI.
Customise each note of the chord and scale.
Dynamically keyswitch or automate the changing of the chord.
Choose retrigger behaviour – either sustain notes, useful for pads, or retrigger every time.
Huge selection of chord and scale presets – hear your chords constrained in Blues or Persian scales, for example.
See the scale highlighted on the keyboard.
Obelisk is currently available as a VST2 plugin for Windows and Mac, priced at $25 USD.
More information: FrozenPlain / Obelisk