oek-sound has announced the release of soothe, a dynamic spectral audio processor for suppressing resonances in the mid and high frequencies.
soothe is designed to save the sound engineer from having to manually notch problematic frequencies often present especially in vocals and other close mic'd sources.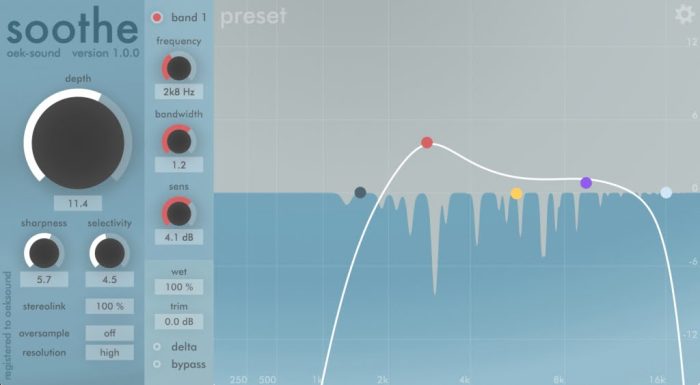 Sporting unique sonic capabilities, flexible parametrisation and modern, informative GPU accelerated user interface, soothe paves the way as the first in oek-sound's range of novel audio processors.

"soothe is a useful and unique addition to sound engineers' palette of tools. Even prior to its release, it has already found its place on the mastering chain of a number of international and front line national releases, giving me all the reason to believe in its success.", oek-sound's founder Olli Keskinen says.

soothe works by automatically detecting the resonances in the audio material and then applying a reduction that matches the input signal.
It can be used to achieve very transparent de-essing and dynamic equalisation, or to fix often encountered problems: excessive handling noise and fretboard noises on acoustic guitar and double bass, overly bright eletric guitar tracks, whistling drum and cymbal close mics.
The amount of audible artefacts is minimised, and the process doesn't introduce cross-over artefacts or pre-ringing.
The initial release is for Mac OSX as 32/64 bit VST, AU and AAX, with the Windows version currently under development to follow shortly.
soothe is available for the introductory price of 99 EUR until November 6th, 2016 (regular 149 EUR). No dongle required. A free 14-day trial version is available for download.
More information: oek-sound