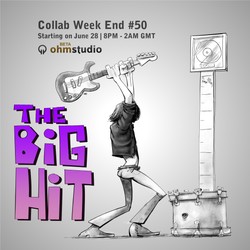 Ohm Force has announced The Big Hit, its 50th Ohm Studio Collab Weekend, scheduled for June 28th, 2013.
This is a special event with no rule other than what every musician or so is aiming at when writing a song: The Big Hit.

Newcomers are required to download and install Ohm Studio beta (free of charge), create an account and log in preferably Friday between 8:00 PM and 2:00 AM (GMT).

Red_Force and Jamie will be there waiting for people. The projects will remain open during the week-end as usual through Ohm Studio's public tab.
More information: Ohm Studio / The Big Hit