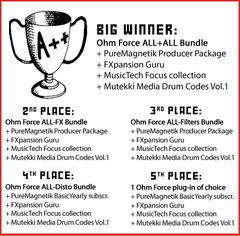 Ohm Force has announced the second edition of its 'already traditional' annual video contest, this time called "Ohm Studio Video Cohmpetition" and offering huge prize kits made of Ohm Force plugins and additional products kindly offered by PureMagnetik, FXpansion, Anthem Publishing and Mutteki Media.
Five winners will be rewarded and big winner's prize kit is U$1,600 value !

The cohmpetition starts April 27th 2009 and submissions must be sent until June 6th 2009. The winners will be announced a few days later.

Contest's participants are challenged to produce a video showing how they use the Ohm Force plug-ins in their music creation/production process, focusing on real use cases, tips and tricks, etc.
The full prize list and additional info can be found at the attached PDF and all details about the challenge/rules can be found at the Ohm Force blog.