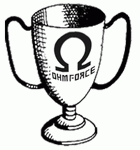 Ohm Force has announced the Remix Cohmpetition 2010, a music production contest with $4,000 USD in prizes.
The track to be remixed is "Stride", the new release from talented american progressive house producer/DJ Derek Howell (check out his MySpace profile or take a look at his discography at Discogs).

What the contestants will have to do is pretty simple: go to the Cohmpetition's page at our blog, listen to the original track, download the sample pack, use Ohm Force's Frohmage filter and/or Symptohm:Melohman Performer Edition synth (both are freeware!) when producing their remix and… show their talent to the world! The submissions should be sent until February 28th 2010, the 3 winners will be chosen by the Ohm Force and Derek himself and the final result will be announced at the beginning of March. Shall the best win!
Remix Cohmpetition 2010 prizes include products by Ohm Force, Camel Audio, Sample Magic, and Muse Research, who will be offering a Receptor 2 to the 1st place winner.
More information: Ohm Force