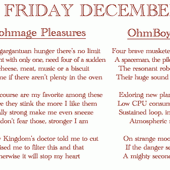 Ohm Force has announced the next pair of discounted plugins in its Christmas Sale, delay effect OhmBoyz and filter effect QuadFrohmage.
"These December's Fridays are being the best days of the month, not only because we'll be all waiting for Santa Clownz at a Friday night, but also thanks to our Christmas Sale!

Third Friday, just one week before Christmas, and now it's time to please sound gourmets around the world: be it with the warmness of the complex sonic meals you'll prepare with the OhmBoyz delay or the infinite gifted possibilities of the 4 QuadFrohmage filter units, -40% discount is not the kind of fake-winter-plugin-sale you'll find out there. Almost half-price, it's a golden opportunity, so read this week's poems, try the demos and use the codes below.
Christmas Sale promo codes
FROHMAGE-PLEASURES (40% discount on the Quad Frohmage filter bank)
OHMBOYZ-MUSKETEERS (40% discount on the OhmBoyz delay)
FROHMAGE-OHMBOYZ-ADVENTURE (discount 40% on both)
More information: Ohm Force