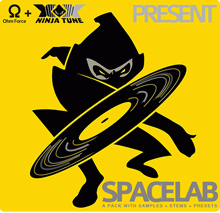 Ohm Force has announced that Ninja Tune – longtime users of the Ohm Force plug-ins, have prepared the SPACELAB PACK, a free sample pack containing hand picked samples/stems/presets from their Spacelab studio's last 20 years archives.
"Spacelab is my studio at Ninja Tune headquarters in London. Spacelab 1 was in London Bridge from 1993-2000. Spacelab 2 is in Kennington, 2000- present date. The samplepack contains material drawn from jamm sessions from both Spacelabs 1999-2011.

These sessions are completely improvised and feature a loose group of friends of mine who come together weekly to hang out and jamm. Recently we have been escaping from the grid of quantisation by dispensing with a metronome and allowing the drummer to play freely, using a Roland TD12 Vdrums kit hooked up to various sampled drum kits. Enjoy!" – MATT BLACK (Coldcut/Ninjatune)".
The Spacelab Pack is free download from the Ohm Force Facebook page.
More information: Ohm Force