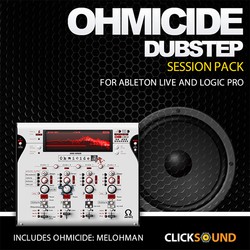 Ohm Force has announced the Ohmicide Dubstep Session Pack, a bundle of the Ohmicide plug-in and dubstep construction templates by partner Clicksound.
All of the construction templates for Ableton Live and Logic Pro within this pack are fully editable Dubstep templates, which allow you to have unrestricted control over any part of the template. You can change the speed, pitch and arrangement of any part such as the drums, basslines or synth leads…what ever suites your mood! They are completely customisable and contain the building blocks for your next Dubstep project. Within each construction template you will be able to see how all of the channels are created, how the sounds are layered and placed in to the arrangement pages and how the included side-chain compression is configured.

The templates also feature Native Instruments Massive and Spectrasonics Omnisphere and just in case you do not have these plug-ins installed each template includes bounced tracks for the third party plug-ins MIDI parts. This simply means that any MIDI parts created using Native Instruments Massive or Spectrasonics Omnisphere have been bounced down to audio tracks within the arrangement page… so you do not need Massive or Omnisphere installed as the bounced audio part will play instead.
The Ohmicide Dubstep Session Pack is available to purchase for 109 EUR. The dubstep templates pack is also available to Ohmicide users for 14 EUR.
Ohm Force has also announced updates to its Mac plug-ins.
Since the release of 64-bit plugins, Mac users have been reporting various issues. Now your favorite VST and AU plugins (work both in 32- and 64-bit applications) are ready to rock again!
Fixes in the update
Loading a plugin and removing it while its GUI was open would make the host crash.
When trying to save presets, all folders in the dialog box would be greyed out, and all attempts at choosing another location blocked.
Contextual menus would appear at the top left of the window, instead of where the right click was done.
The ctrl/cmd + click modifiers on knobs would not work.
This upgrade is available to download now for registered customers..
More information: Ohm Force