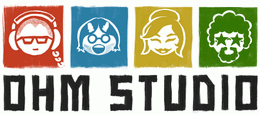 Ohm Force has released some new videos of Ohm Studio, the upcoming standalone real-time collaborative music making application (DAW/sequencer) in addition to a web based collaboration platform and a music driven online cohmunity.
Now it's time for unveiling a number of features and aspects of Ohm Studio's GUI: Not only did we turn on the respective tab on Ohm Studio's site, but also put 6 new video teasers online. In each one of them you'll be able to learn more about Ohm Studio's refreshingly simple and efficient interface, built from the ground up.

Each video explains a little bit of Ohm Studio's structure while showing concrete examples, talking about automation, modular routing, piano roll innovations, and much more besides. The GUI overall look/skin is still the Alpha Version's one (we're keeping the definitive Ohm Studio skin as a suprise for the Beta version) but the intuitive and highly versatile workflows – and their stunning smooth visual – are already there.
More information: Ohm Studio