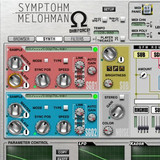 Ohm Force has released version 1.23 of Symptohm:Melohman, a virtual synthesizer plug-in for Windows and Mac.
Symptohm:Melohman was born to remind the world that great music comes not from cold calculation but from passion. Unlike other synths, bound to rigid curves and predetermined behavior, Symptohm:Melohman responds to your touch, enabling you to control every aspect of Its twisted sonic mayhem in a most natural, intuitive and musical way. More sonic control than you ever thought possible is now, quite literally, at your fingertips.
Changes in Symptohm:Melohman v1.23
Finally been able to correct a long standing DSP bug in which the plug-in could crash with extreme oscillator settings.
Fixed bug in the preset browser which would display an "invalid root directory" and no presets in some cases.
RTAS Windows bug with PT 8.0.1 fixed : changing the hardware buffer size with some Ohm Force plug-ins loaded lead to a crash.
Symptohm:Melohman is available to purchase for PC and Mac (VST/AU/RTAS), priced at 79 EUR for a single format license, or 99 EUR for the pack.
More information: Ohm Force