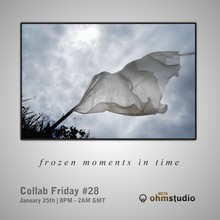 Ohm Studio has announced its 28th Ohm Studio Collab Friday scheduled for January 25th, 2013.
Sunil Sandeep, a familiar figure seen on Ohm Studio, is holding an exhibition at Sampram Art Gallery in India on February 15th. He will expose slideshows of pictures which he would like to accompany with an original soundtrack made by Ohm Studio users.

Newcomers are required to download and install Ohm Studio, create an account and log in between 8:00 PM and 2:00 AM (GMT). Red_Force and Jamie will be waiting for people here.
More information: Ohm Studio / Ohm Studio Collab Friday