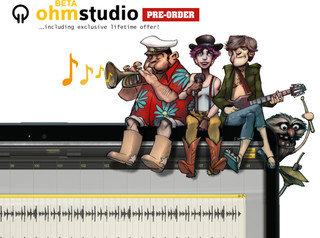 Ohm Force has announced that it will release its Ohm Studio music production software will be released by the end of October.
Ohm Studio, the first full-featured DAW for real-time online music production, has been in open beta since the end of May.

It now features 14K users who created 21K projects – some solo, others collaborating with partners, and some others taking part in definitively fun public jam at weekly events. More importantly, the overall quality of the projects is pretty stunning and the Ohm Force team witnessed live how fast tracks were recorded and put up together, thanks to effective real-time collaboration.

Ohm Force has now a clear plan on what will happen next:

Beta is planned to end in October and fluently transit to the release.
At that point, user-created content will not be deleted.
Buyers of the discounted pre-orders will enjoy full access to Ohm Studio for 6 months or forever (see below).
Non-buyers and newcomers will either go for the limited free account or the 9€/month standard subscription for full access.
Ohm Studio users can now purchase one of the two pre-ordering options available until the end of beta:
A 6-month pack for €39.00 instead of €54.00, starting as of end of beta
Or a pre-order exclusive lifetime subscription for €149.00.
Prices include VAT for EU customers.
Note that the price of the lifetime subscription will increase by €25 every month until the release, at which moment this offer will be removed.
More information: Ohm Studio