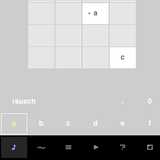 Oliver Wittchow has released version 1.2 of nanoloop for iPhone / iPod, a music app which combines sequencer, synthesizer and sampler in one package, providing all functions for creating electronic music from scratch.
Nanoloop was originally developed for Game Boy (first release in 1999) and is a popular platform for mobile music creation. The new iPhone version presented here follows the same basic structure and design concept but otherwise it is an entirely new program. It does not simulate the Game Boy's sound or other functions but has been fully optimised for the iPhone's capabilities.
nanoloop for iPhone features
Six channels, each can be synth or sampler.
Fast and easy to use stepsequencer.
Synthesizer with envelope, filter, LFO and other parameters.
Sample external audio or nanoloop's own sound output.
Song editor with loop function.
Save function.
Works on 1st gen iPod touch and 2.2 software.
Send and receive projects via e-mail, using the iPhone's / iPod's e-mail program.
nanoloop for iPhone is available to purchase from the iTunes App Store for $8.99 USD.
More information: nanoloop for iPhone / iPod