Olympia Noise Co. has released version 1.1 of Ondes, a fun and expressive musical instrument for iPad.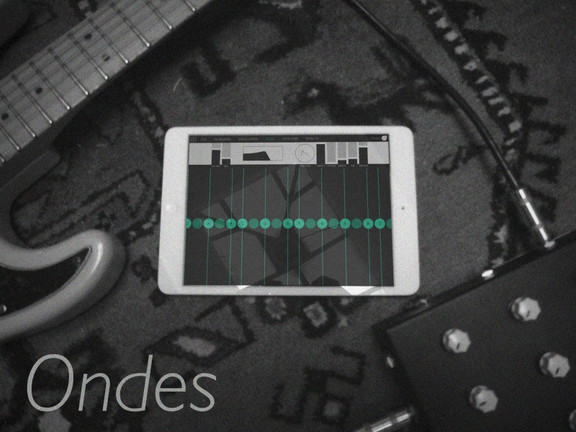 Inspired by early electronic instruments such as the Ondes Martenot and the Theremin, Ondes emulates the fluid playing style of those classic instruments with an interface and synthesis engine firmly grounded in the present day.
Changes in Ondes v1.1
Swarm Oscillators – Two extra oscillators to thicken your sound. Detune them and tell them lag behind to create a swarm effect.
Hold Button – Press the 'hold' button to sustain notes indefinitely. Play melodies over top or move the sustained notes around.
MIDI Mode – You can now control other synths and electronic instruments with Ondes using MIDI. Please read the instructions though — there are a few things you should know about first!
New Modulation Parameters – The Y Axis can now control more parameters: Assign the Y Axis to control wavetable LFO rate & depth. Assign the Y Axis to control filter LFO rate & depth. Adjust the Y Axis to control volume from -100% to 100%
Inter App Audio Transport – Using Ondes as an instrument in Garageband or other DAW just got easier! You can you control the play, record, and rewind buttons from right inside Ondes.
Keyboard Range – Choose between small (1.5 octave) and large (2.5 octave) range for the keyboard.
Snapping – New "Scale" and "Chromatic" snapping modes.
Scales – In the mood for some modes? How about the "prometheus" scale? Choose from a bunch of pre-loaded scales or create your own. Save and reuse your custom scale types!
Tuning Systems – Put all that microtonal space to good use with alternate tuning systems. Choose from experimental and traditional tuning systems such as Just Intonation, Pythagorean, and Highland Bagpipe tuning. Create your own tunings or import & export .scala files. (Some limitations apply)
Tuning Reference – Ever feel like A440 isn't right for you? How about A415? That's more like it.
Ondes for iPad is available for purchase for $7.99 USD.
More information: Olympia Noise