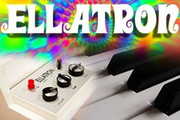 Omenie has released Ellatron, a virtual Mellotron application for the iPhone/iPod Touch.
Finally, the iPhone music app you've been waiting for. All the groovy 60s sounds of a Mellotron, but a lot more portable. If you've been hoping to recreate the genius of Strawberry Fields or Days of Future Passed, Ellatron is the way to do it – and it couldn't be easier.
Ellatron features
18 different voices, from classic Mellotron-esque orchestral string sections, chamber strings, woodwinds and flutes + a selection of organs, synthesizers and thumping drum loops.
Classic 3 octave range of the Mellotron M400.
Keyboard is split into 2 independent manuals, each of which can represent either the upper or lower half of Ellatron's range. Each manual can be assigned a different voice (or 'Tape Frame' in Ellatron speak), allowing simultaneous Strings and Brass, Flutes and Choir, or any of the multiple organs or synths integrated into Ellatron.
Selectable 'Wow and Flutter' for that authentic tuning instability!
Ellatron will be continuously updated, and the next major release will include a rich multi-voice sequencer, supporting 32-note polyphony on up to 8 concurrent Ellatron instances.
Ellatron is available from the iTunes App Store for $2.99 USD.
Visit Omenie for more information and a demo video.