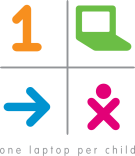 One Laptop Per Child wants to provide children around the world with new opportunities to explore, experiment and express themselves.
Their mission:
… to stimulate local grassroots initiatives designed to enhance and sustain over time the effectiveness of laptops as learning tools for children living in lesser-developed countries.
The OLPC laptops run on XO, using components from Red Hat's Fedora Core 6 version of the Linux operating system. It supports programming environments like Python and Csound, a programmable music and audio environment.
I'm pretty excited to see the children will get to play with tools like TamTam, a music and sound exploration application.
Create Digital Music posts about the 8.5 GB of free, CC-licensed samples and music tools that come with the OLPC laptops.
Plenty of people contributed top-notch sound: the Berklee College of Music, Csound developers around the world, electronica celebrity BT (himself a former Berklee and Boulanger student, among other alums), M-Audio and Digidesign, and the Open Path Music Group.
Since the samples are donated under a Creative Commons Attribution license, you can use these samples as long as you attribute the source (without using the OLPC).
http://wiki.laptop.org/go/Sound_samples
http://wiki.laptop.org/go/Talk:Sound_samples
Check the OLPC Wiki for more details about the laptop and the CSound based tools included with OLPC.