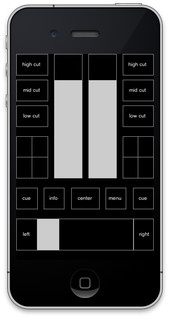 One More Muse has released Control, a new controller app for iOS that allows you to create custom interfaces.
Control enables users to create their own interfaces for controlling musical, artistic and virtual reality applications. It is built on top of Apple's WebKit rendering engine and allows users to define their interfaces via JSON files.
Control features
Outputs both Wireless MIDI and Open Sound Control (OSC).
Reads and outputs data from Accelerometer, Gyro and Compass sensors (on applicable devices) with adjustable update rates.
The ability to script behaviors for widgets using JavaScript.
Auto-discovery of wireless networks via Bonjour.
Interfaces can be pushed to the phone via OSC or downloaded from the web.
Supports both portrait and landscape interface orientations.
Interfaces work on both iPhones and iPads.
Control is available as a free app for iOS 4.2 or later.
More information: One More Muse