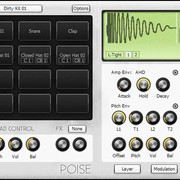 One Small Clue has updated the Poise percussion sampler instrument for Windows to version 1.1.7.
Poise makes working with drum samples quick and effortless, allowing you to focus on creating music.
Changes in Poise v1.1.7
New: Added a "Save Drum Kit to Project Folder…" command for Reaper users.
Change: The location of the Poise data folder can be specified in an XML document in the VST plugin folder instead of in the registry.
Change: Poise now automatically searches for missing files in the drum kit and sample directories.
Change: FL Studio 10. The output configuration is now fixed to 16 stereo outputs.
Bug Fix: FL Studio 10. Projects using Poise with multiple outputs weren't restored correctly.
Bug Fix: Cubase 5.5. Outputs weren't configured properly.
Bug Fix: Configuration files were saved to the drive root if the Poise data directory couldn't be found.
Poise for Windows (VST) is available to purchase for $49 USD.
More information: One Small Clue / Poise