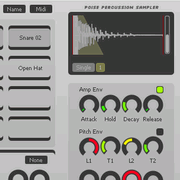 One Small Clue has released version 1.0.65 of Poise, a percussion sampler instrument for Windows.
Direct, straightforward, no frills and no bloat! Poise makes working with drum samples quick and effortless, allowing you to focus on creating music.
Changes in Poise v1.0.65
New: Sample normalisation is now per sample and can be changed at any time. Sample normalisation used to be a global option.
New: Added support for pitch bend and modulation wheel MIDI input.
New: Added support for.gru files (GURU song format).
Improvement: Configuration files are now saved in the Windows application data directory instead of the VST plugin directory. This prevents problems when Poise is run with limited user access privileges under Windows Vista & Windows 7.
Improvement: Reaper x64: Added support for GUI resizing.
Improvement: Reaper x64: Added support for hotkeys.
Improvement: Hot keys now work in MultiTrackStudio.
Improvement: Poise now uses better quality re-sampling routines when loading and saving sample files.
Bug Fix: Poise was crashing Reaper when a project was loaded. Poise wasn't handling MIDI input correctly.
Bug Fix: Sliced loops were saved without a filename extension.
Bug Fix: Sample preview sometimes stopped working on multi-core systems.
Bug Fix: Knob value pop up hints disappear and do not display correctly.
Bug Fix: Phase flipped samples weren't drawn correctly.
Bug Fix: When importing loops, the sliced looped sections would later be reloaded with the wrong volume.
Bug Fix: When previewing samples in the browser, the sample preview player would click when changing to a new sample.
Bug Fix: MIDI key names now work in PreSonus Studio One.
Bug Fix: Maximum buffer size was not set correctly in all circumstances.
Poise for Windows (VST) is available to purchase for $49 USD.
More information: One Small Clue