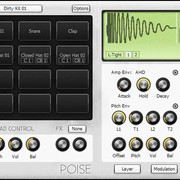 One Small Clue has updates the Poise percussion sampler plugin for Windows to version 1.1.19.
Direct, straightforward, no frills and no bloat!

Poise makes working with drum samples quick and effortless, allowing you to focus on creating music.
Changes in Poise v1.1.19
Bug Fix: MIDI learn configuration wasn't being saved.
Bug Fix: "Reload Samples" command wasn't working correctly.
Bug Fix: "Choose Sample Editor" command would cause an access violation error.
Bug Fix: Previously locked pads would be overwritten when slcing and importing a loop. Now the locked pad data is not overwritten.
Bug Fix: ProTools – Outputs are now fixed to 16 stereo outs.
Change: Modified the Hotkey method. Previously hotkeys were being captured in Reaper when Poise wasn't in focus. The new method hasn't been tested in all hosts.
Change: "Poise Data.xml" can now use a relative path to locate the data folder.
Change: Default output count option is not shown in hosts that don't support output configuration changes.
Change: Hotkeys now work in Orion.
Poise for Windows (VST) is available to purchase for $49 USD.
More information: One Small Clue / Poise