ONYX Apps has launched its Spectrum Analyzer for iOS, a powerful real-time audio analysis app.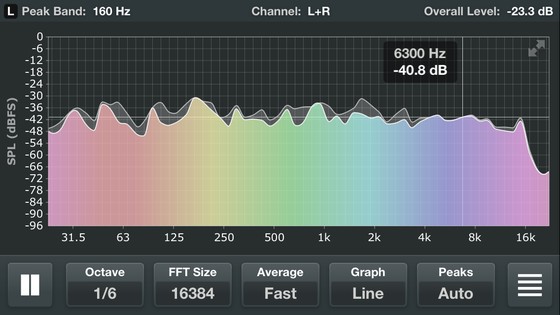 Audio input may be acquired via built-in microphone or external measurement microphone.
Designed with musicians and recording engineers in mind, it can also be used by anyone interested in the world of sound. Ideal for room tuning or speaker tuning, the app enables portable, precision audio measurement and visualization.

Spectrum Analyzer harnesses the computational and graphical power of its host device to provide precision, real-time readouts that are smooth and responsive. It has been designed from the ground up to take full advantage of the newest features and capabilities of iOS 6. It is a completely integrated app – there are no plug-ins or in-app purchases available or required.
Spectrum Analyzer features
Octave Band Real Time Analyzer.
FFT Plot (Fast Fourier Transform).
Spectrograph module.
Test Tone and White/Pink Noise Generator.
Retina display and iPhone 5 ready.
The app is available to purchase for $14.99 USD.
More information: Spectrum Analyzer App