Open Labs has announced StageLight 4, an update to its flagship, easy-to-use, music creation software.
The new version features SampleVerse (a powerful sampler instrument), MIDI Polyphonic Expression (MPE) with touch controls and a new platform addition with iOS support.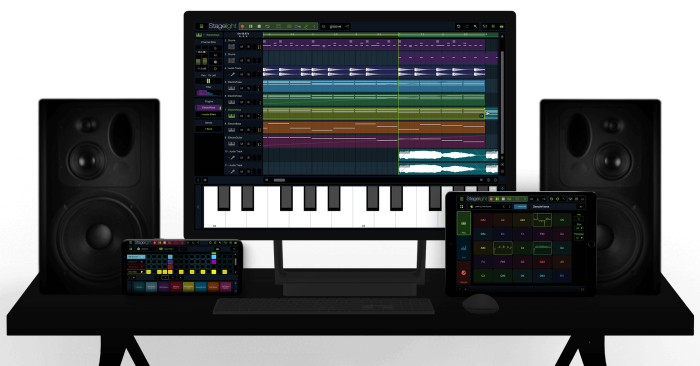 "StageLight 4 is our most significant release yet," said Cliff Mountain, Open Labs' CEO. "We all have the ability to be creative. StageLight 4 gives everyone an easy introduction to creating music along with new innovative features. We can't wait to hear what our customers make with this one!"
SampleVerse – New Sampler Instrument
StageLight 4 includes the brand new SampleVerse, a hybrid sampler and synthesizer instrument, to bring revolutionary new sounds to the mix. Play, arpeggiate, pulse, shift and filter sounds with complete touch screen control. Scroll through dozens of new preset instruments or dive into its unique workflow to create new blends of samples like never before in StageLight. The deeper a creator dives into SampleVerse the more control they'll find. Sample any sound with automatic pitch detection and correction. SampleVerse gives everyone the power to design and combine unique sounds on any device.
MIDI Polyphonic Expression (MPE) – Enhanced Expressiveness
StageLight 4 adds full MPE support. MIDI Polyphonic Expression blurs the boundaries between keyboards and stringed instruments. You can now control multiple parameters (pitch, bend, timbre) of every single note separately. With MPE and StageLight, all touchscreen devices transform into expressive instruments that anyone can play.
iOS Support – Cross-Platform Support
By adding StageLight to the App Store on iOS, Open Labs has connected every major platform together in a seamless user experience. Creators can now begin a song on their mobile device, regardless of platform, and finish it on their Windows PC or Mac computer. With iOS, StageLight opens the door to users in search of the easiest and most revolutionary way to create music with loops and instruments in 2018.
StageLight 4.0 other key features include:
9 Instruments.
14 Effects.
Third party plugin support (VST, AU & AUv3).
Full screen Mixer w/ Sends.
Pro Automation.
Key Lock.
Track Freeze.
Over 120 Expansion Packs.
Access to over 10,000 sounds.
Cloud Saving (Google Drive & Microsoft OneDrive).
StageLight 4 by Open Labs is now available in the following editions:
StageLight Free allows anyone to start making music.
StageLight Platform Unlock V4 for iOS or Android ($14.99 USD) & Windows or macOS ($49.99 USD) unlock access to all in-app features on the specific platform (Windows, macOS, Android, iOS), including all 8 instruments, 14 effects, 3rd party plugin support (VST/AU where supported) and additional Store Credits to add more content to your library.
StageLight Ultimate Unlock V4 ($149.99 USD) unlocks every platform for all of your devices on Windows, Android, iOS, ChromeOS and macOS. Also include StorePass for instant access to over 120 packs and all 10,000 sounds available today and get all new packs for free until version 5.0.
StageLight is available on most devices, including: Chrome OS systems supporting Android apps, Android 4.4+, iOS 11+, macOS 10.7+ and Windows PCs running Windows 7 or higher.