Orange Tree Samples has released Angelic Chimes, an extensively-sampled struck chimes sample library for Native Instruments Kontakt.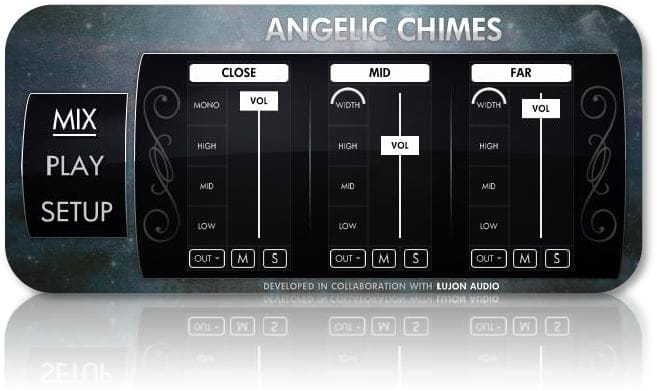 The chimes have a pure, vibrant tone with a tremendous amount of sustain–in fact, some of the chimes ring for well over 30 seconds. Of course, this can be altered using the built-in attack, decay, and release controls, which allow you to sculpt the chimes' volume envelope into rich pad sounds or short percussive hits.

The chimes were sampled in collaboration with Lujon Audio at WaterSound Studios in Studio City, California, the same studio where our Pure Jazz Vibes and Paradise Marimba sample libraries were recorded. Like the vibes and marimba libraries, Angelic Chimes features close, mid, and far mic signals, giving you ample flexibility over the tone of the chimes. That way you can get anything from a close, dry tone, to a distant sound that mixes well with large ensembles.

The library is comprised of six sets of chimes covering bass, baritone, tenor, alto, soprano, and sopranino ranges. These sets of chimes are available as a single, combined playable patch as well individual ranges mapped across the entire keyboard. There's also the ability to extend the playable range to cover the entire keyboard, stretching the samples as necessary to access pitches outside of the naturally-sampled notes.
Angelic Chimes features
Nearly 10 GB of uncompressed samples, recorded in 24-bit, 48khz.
Six sets of chimes: bass, baritone, tenor, alto, soprano, and sopranino.
Adjustable close, mid, and far mic position signals.
Four dynamic layers with up to 6x alternating round-robin samples.
The library is available for the introductory price of $79 USD until May 15th, 2015 (regular $99 USD). Requires Kontakt 4/5 full version.
More information: Orange Tree Samples / Angelic Chimes