Orange Tree Samples has released Evolution Rock Standard, a new NKS-ready guitar instrument library for Kontakt Player.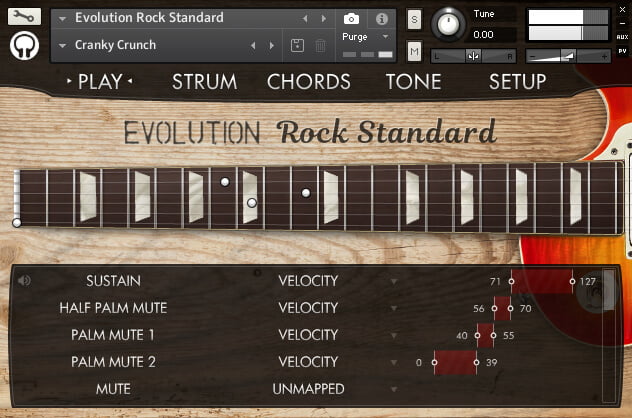 The library extensively reproduces the sound of an iconic electric guitar that holds a central role in the history of rock music, the Gibson Les Paul.
These guitars have continued in popularity through the decades, featuring in countless landmark recordings and performances.

The level of craftsmanship involved in the production of these electric guitars is audible though their sonic depth and rich, singing sustain. Its dual humbucker pickups provide bold mid frequencies, supplying ample presence for crunchy and high-gain tones as well as generous warmth for clean tones.

All this has been captured in exceptional detail–multiple dynamics, round-robin variations, all the articulations required to create production-ready rock guitar rhythm and lead tracks.
Evolution Rock Standard features
Built-in effects engine for instantly-usable blues guitar tones.
Adjustable pick position using our proprietary physical modeling technology.
Powerful mapping system that lets you set how you want to trigger articulations, using conditions such as velocity ranges, MIDI CCs, latching and non-latching keyswitches, and more.
Multitracking up to quadruple tracking.
13.4 GB (compressed to 4.51 GB using the lossless NCW audio format) of 24-bit samples.
Articulations such as sustains, palm mutes, mutes, natural harmonics, plus special effects like string slaps, divebombs, and more.
MIDI articulations for instant octaves, grace notes, buzz trills, whole-step slides, whole-step hammer-ons, and slides (velocity-based and tempo-synced).
Legato samples for slides, hammer-ons, and pull-offs.
The articulations have 3 dynamics, 2 pick directions (when applicable), and 2x round-robin.
Evolution Rock Standard is on sale for the intro price of $139 USD until October 18th, 2017 (regular $179 USD).
More information: Orange Tree Samples / Evolution Rock Standard