Orchestral Tools has announced the release of Vivid Keys by Organic Samples, a versatile grand piano with a warm, natural sound that is designed to fit easily into a broad range of styles and genres.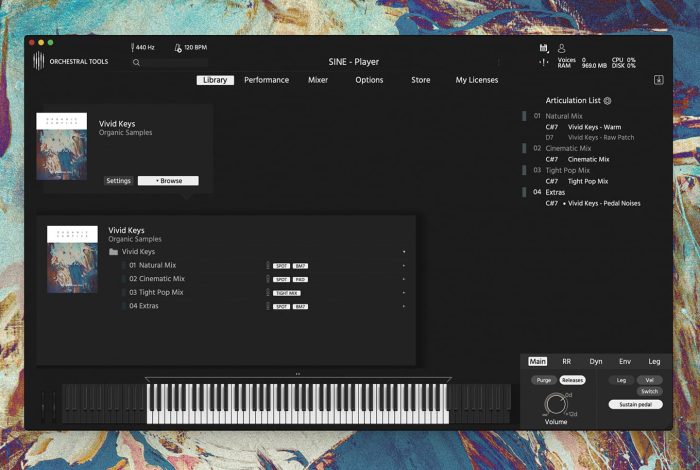 Sampled in a dry room using close mics with the soft pedal on, Vivid Keys has an upfront quality and round tone. It features trhree distinct mixes that provide fast starting points for composers, producers, and other creators.
Recorded in a dry studio using close mics, Vivid Keys captures the pure, direct sound of a Yamaha C3 grand piano—a mainstay of recording studios worldwide. By using the soft pedal for all samples, Vivid Keys delivers rich, round timbres.

Three ready-to-go mixes let you start creating right away. The natural mix offers an upfront, present sound with just a touch of optional reverb. The cinematic mix builds on the softer dynamics of the raw piano tone, adding a large, shimmering pad. And the tight pop mix uses dynamic compression to provide the punch for cutting through any production.
Vivid Keys features
3 ready-to-go mixes: Natural, cinematic, and tight pop.
Features sustain-pedal sampling plus a Bricasti Design M7 reverb for creating a rich, spacious sound.
Sampled with the soft pedal on for a round, warm tone.
Recorded with closely placed Neumann TLM 103 mics.
Includes numerous dynamic layers and transitions for smooth playing from pianissimo to mezzo-forte.
Incorporates extensive release and mechanical noise sampling for enhanced realism.
Vivid Keys for the free SINE Player (VST/AU/Standalone) is available for the intro price of 59 EUR until November 19th. The regular price is 79 EUR. Prices ex. VAT.
Additionally, Native Instruments is currently running a sale on Orchestral Tools, offering some of its symphonic instruments for Kontakt at up to 63% off through November 9th.
More information: Orchestral Tools