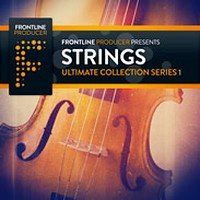 Organic Loops has launched Strings Ultimate Collection Series 1, the first in a new series of high quality string solo and ensemble loops by Frontline Producer.
For the last few weeks here at Frontline Towers, we have been perfectly attired in our white tie and tails, turning imaginary sheet music, randomly tapping batons (pens, pencils, drumsticks) on imaginary podiums (books, radiators, colleagues heads etc.) and generally walking around with an uncommon air of gravitas and distinction.

The reason for all this pomp, well we have been cooking up "Frontline Producer Ultimate Strings Vol. 1"; the first in a sizzling, appassionato series of sample packs that brings you all the power of a string orchestra that you can fit snugly in your waistcoat pocket.

Our strings were recorded through a selection of "Class A" vintage ribbon mics, including Coles, Neumann and AEA, meticulously edited and bounced at 44 kHz and 24bit in 2, 4, and 8 bar loops.

In Detail Vol1 is a 750mb collection of 312 riffs, rhythms, tremolos and glissandos, with a root tempo of 130bpm, in the keys of A, E and G.

From cinematic productions, to epic sounding House, Rockstep, and Electro tracks, we give you all the tools necessary to produce some serious music.
The sample pack costs £29.95 GBP.
More information: Organic Loops / Strings Ultimate Collection Series 1