Origin Sound has launched its latest sample pack Carrtoons Bass Jams, a dose of low-end inspiration from Carrtoon containing carefully crafted loops, shots and licks.
Straight from the genius Ben Carr, Origin Sound brings you Cartoons Bass Jams. Carr is an established bass player who brings his neo-soul/funk licks to the beat scene. Known for his videos on Instagram, he has a devote following who tune in to watch all his jams and collabs. Besides crafting perfect bass-lines, Carrtoons also produces beats using gear like the SP-404. Carr knows how to fit his notes perfectly into the pockets of Lo-Fi beats. Busting with bass content, this pack is perfect for any producer in need of some low-end inspiration.

With over 250mb of carefully crafted loops, shots and licks, this pack can be utilised in a multitude of ways. Begin a new track by dropping a full loop straight into your projects, use a lick to spice up a drum fill or throw a one-shot into a sampler, it's up to you! The pack could also be a useful tool for musicians wanting to improve their bass playing or bass recording, there's a multitude of lessons to be learned within Carr's pack.
The pack includes:
88 Bass Licks.
34 Bass Loops.
30 Bass One-Shots.
24 Bit 44.1kHz WAV Format.
70-105BPM.
100% Royalty Free.
Also available is Vintage Mixtape – Soulful Hip Hop Expansion, a new collection that builds off the original pack with another 600MB+ of lush samples dripping with hip-hop vibes.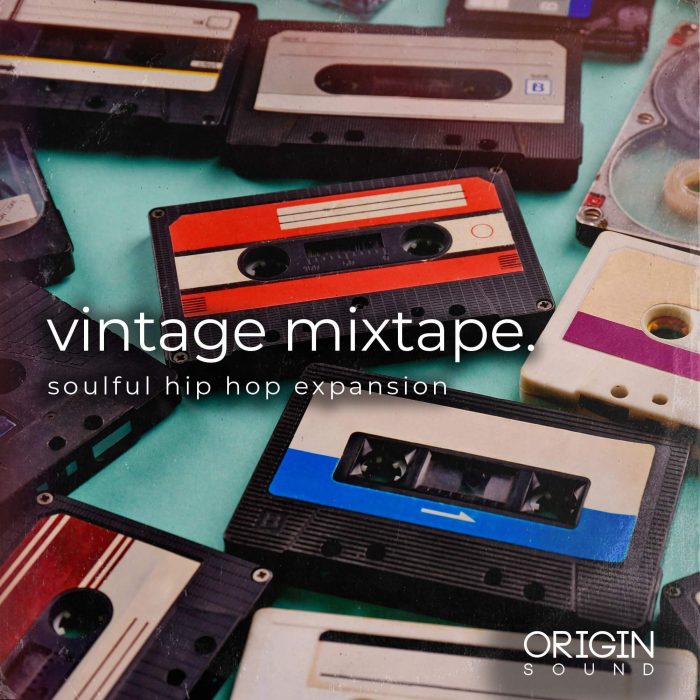 Following the top trending sample pack Vintage Mixtape, Origin Sound presents the Vintage Mixtape Expansion Pack. Building off the original pack, the expansion adds another 600+mb of lush samples dripping with hip-hop vibes.

Digging into the pack is like taking a trip to the record store, each folder like a different crate of vinyl. The 'song starters' folder comes loaded with multi-track ideas and is a solid place to begin your sample hunt. These starter loops come ready with the option to choose a dry loop, aged loop, or chopped loop. The rest of the pack is filled with melting electric keys chord progressions, rich guitar loops, and drums that slice through a mix. A highlight is the chords folder that showcases expertly crafted harmonic progressions with impeccable voicing.
With Melody & Soul – Future RNB Feels, Origin Sound brings a selection of contemporary future sounds characterized by bouncy and rubbery sonics, containing loops, one-shots and MIDI files.
The music loops folder is your perfect starting point. The bass loops are packed full of character, from thumping transients to legato glides. The chord loops are typically bright and wide but retain a retro vibe with additions of wurlis and Rhodes. The melodies have a crystal clear sound, perfect for cutting through dense mixes. We have also included 20 stacked song starter loops combining previous samples, as well as accompanying MIDI allowing you to manipulate each loop further.

Our folder of diverse drum hits contains a wealth of expertly crafted samples. The 30 kick drums are all processed with care, with clear transients and airy tails, allowing you to simply drag and drop into your projects. The percs and tops range from crisp foley hits and metallic strikes to live dusty cymbals. Our library of 30 snares are perfect for multiple uses, from top layers to transient hits, there's plenty in there to suit your needs.

If you're looking for a more immediate workflow, then our drum loops are for you. In this folder, we have included 20 punchy rhythms and dynamic grooves, as well as accompanying renders of percs and tops and kick snare. As a bonus, we have included an extra 10 perc loops for an additional layer in your productions.

Our music hits folder is packed to the brim with fuzzy, retro analogue one-shots, all pitched to C. The sounds are typically quite dry, providing an ideal canvas for personal processing. The bass one-shots are comprised of a further 20 digital samples, sticking to the primarily simplistic-retro sound palette, allowing you to manipulate each sound accordingly to fit your tracks.

Finally, explore our folder of 30 SFX, encompassing a range of various sonics, from noisy risers to modular synth sweeps, to deep impacts, each sound has been crafted with user workflow in mind, making it especially easy for you to drag and drop samples into your projects without issue.
The sample packs are available from Prime Loops for £24.95 GBP each.
More information: Prime Loops