Origin Sounds' latest sample pack Study Beats brings a collection of Lo-Fi Hip Hop sounds that transcends various BPMs, from uplifting swung beats, through to smooth downtempo, whilst maintaining a melancholic mood throughout.
The pack includes over 260 samples, including drums, bass, chords, melodic loops, vinyl cuts, and more.
Upon your first exploration through 'Study Beats', you will notice the encyclopaedic selection of music loops, from song starters, authentic vinyl cuts, bass', chords, and melodics. As with all Origin Sound Lo-Fi packs, the music loops are wonderfully organic, with an ample selection of dusty basslines, delicate arpeggiating guitars, crackly piano chords, and plenty more. A library truly full of inspiration at every corner.

Whilst the music loops folder is an essential aspect of 'Study Beats', the drum folders are a key element of the pack. Filled with over 40 drum loops and 120 drum hits, 'Study Beats' has everything to fulfil your Lo-Fi Hip Hop drum needs. All the drum hits provided have plenty of variety in timbre whilst staying true to the sonic aesthetic of Lo-Fi.

To finalise your beat in true Lo-Fi fashion, get creative with the numerous SFX on offer, from birdsong through to gramophone crackles. These foley infused atmospheres and soundbites with provide your productions with a heightened level of Lo-Fi authenticity.
Also released recently is Trap Samples, a streamlined library that packs a punch with some of the best Trap and Hip Hop tools Origin Sound has offered.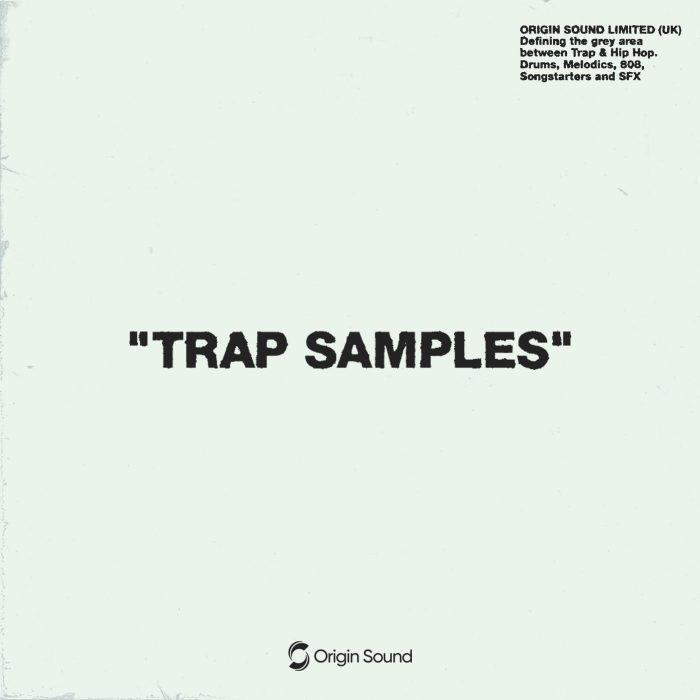 The collection features a solid selection of drums, sound fx, and music loops.
These melodic and harmonic samples are primed and ready to be thrown into your sequencer or to be chopped and diced up to give your own twist. If you're looking for a quick sample to get your beat moving, check out the plethora of song starters available, a series of loops with numerous layers and elements all mixed and intertwined, allowing you to progress quickly and get ideas down faster.

Alternatively, dive into the melody, chord, and bass folders, where you can find the song starter loops broken down into their individual elements, allowing for a more intricate approach where you can dissect and interchange various parts with your own musical ideas. Not forgetting the vital dedicated 808 folders, with a number of individual tuned 808 hits that are ready to be turned into your rumbling bassline.
Trap Samples features
95 Drum Hits.
33 Drum Loops.
19 Bass Loops.
22 Chord Loops.
45 Melodic Loops.
16 Song Starters.
10 808 Hits.
26 FX.
The sample packs are available from Prime Loops for £29.95 GBP each.
More information: Prime Loops