Origins of Audio has released version 1.2 of Pulse, a sequencer instrument library for Native Instruments Kontakt.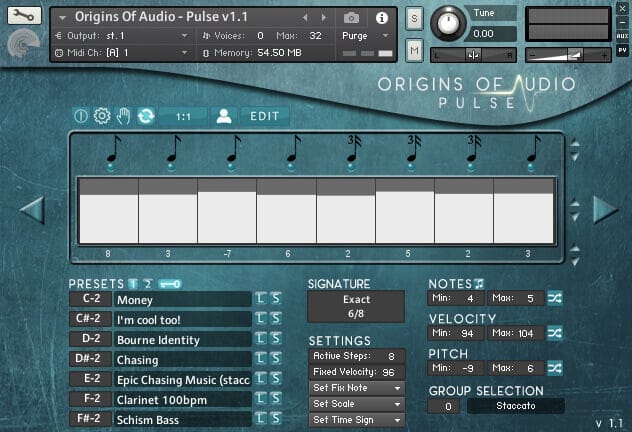 Pulse is a powerful sequencer, which will inspire all of you who reached a musical dead end! You have only to import a group inside Kontakt's engine, choose from at least 13 different musical scales and let Pulse do its work!
Changes in Pulse v1.2
Export in multiple notes: Pulse now gives the user the possibility of exporting a sequence in up to three notes, rather than one. A user just has to activate the button and press the desirable three notes.
Reverse sequence order: A user can reverse the notes on the visible sequence they have created. More over, if this button is on, whenever a user loads a preset, the order will be also reversed until switched off.
Play/Loop mode: A sequence will automatically play in a loop mode, without the user having to press a note on your MIDI keyboard. Thus the user can concentrate more on tweaking Pulse's parameters, rather than pressing MIDI notes.
Message display window: A message is displayed on the bottom of Pulse's U.I. every time the user press a button from the upper menu.
Finally, the manual now includes a detailed guide of how to import samples inside Kontakt and then use them in Pulse.
Pulse for Kontakt 5.5.1 and higher (full version) is available for purchase for 19 EUR ex. VAT.
More information: Origins of Audio / Pulse