Sugar Audio has released version 2.5 of Oscarizor Pro, a parametric multi analyzer effect plugin for Windows and Mac.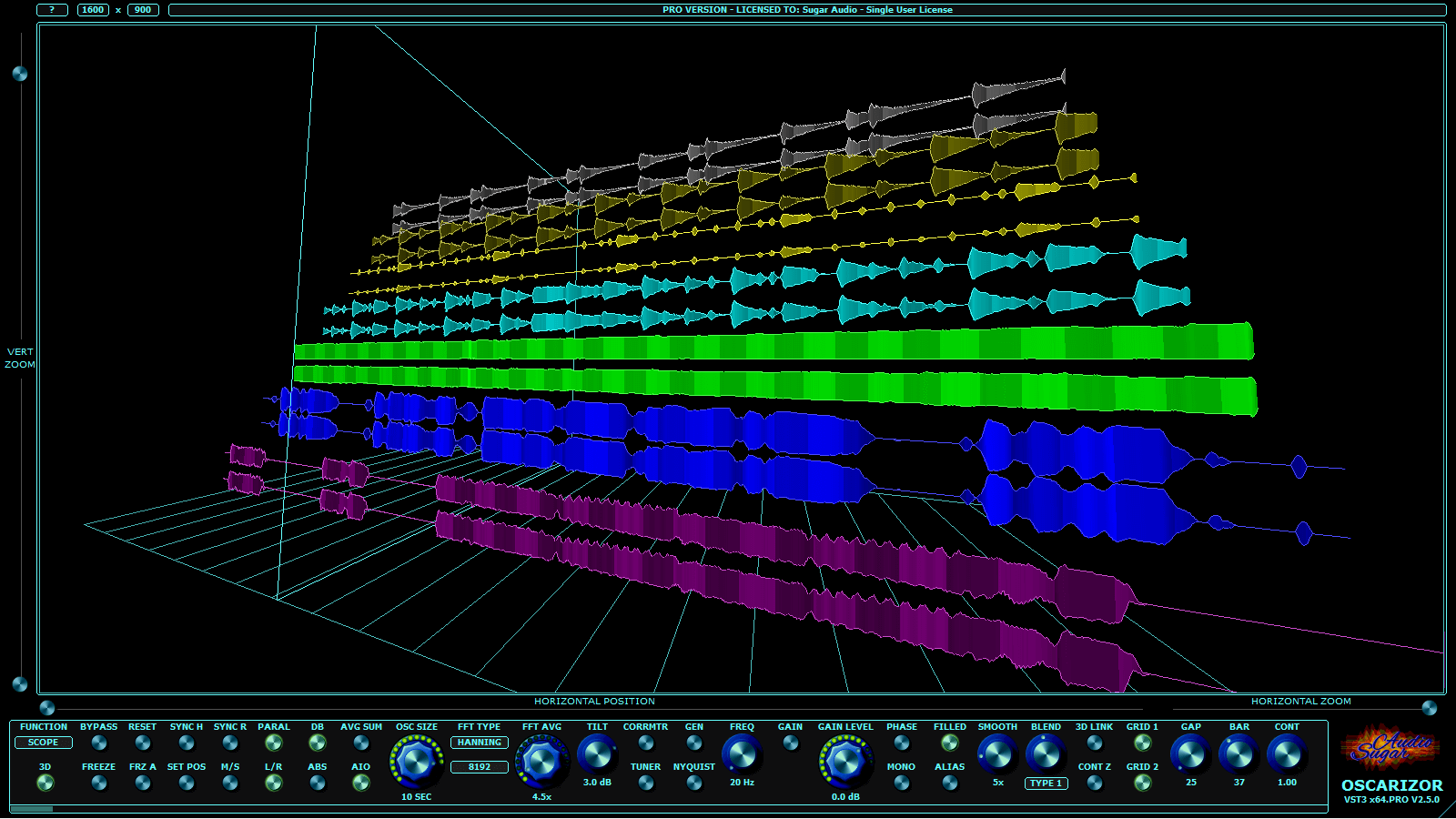 Extensive 3D capabilities, the multi channel gonio meter, combined views, 255 send channels, all-in-one multi panel control, free resizing and custom UI coloration are some of the new features that have to be explored.
Changes in Oscarizor v2.5
3d multi channel spectrum analyzer & oscilloscope (Pro).
360 degrees three axis 3d rotation, free positioning and zooming (Pro).
Free window resizing by direct input or dragging (Free/Pro).
Gonio meter analyzer added (Free/Pro).
Multi channel support for gonio meter (Pro).
Combined views Osc/Spectrum or Osc/Spectrum/Gonio meter (Pro).
Custom UI coloration (Free/Pro).
Maximum 255 send channels (16 before) (Pro).
Spectrum analyzer low frequency down to 10Hz (25Hz before) (Free/Pro).
Spectrum analyzer high frequency up to Nyquist (Pro).
Instrument tuner switch FFT size and function memory (Pro).
Mono mix average sum switch (Free/Pro).
Smoother high limit is now 30x (instead of 20x) (Pro).
Test tone is now at -12db (instead of 0db) (Free/Pro).
Graphic controls consolidated to new GFX panel (Free/Pro).
All-in-one switch shows as many controls as possible in one panel (Free/Pro).
Receive channels show names of sending channels (Pro).
Grid on/off switches (Free/Pro).
Performance tuning (Free/Pro).
Bug-fixes.
Oscarizor Pro for Windows and Mac (VST/AU/AAX) is available for purchase for 34.95 EUR. The update is free for existing customers and the free version has been extended as well.
More information: Sugar Audio