Oscillicious has announced the release of version 1.4 of BeatCleaver, a major update to the beat slicer for Windows and Mac. New features include a state-of-the-art audio editing engine, automatic tempo detection, and slice-to-MIDI functionality.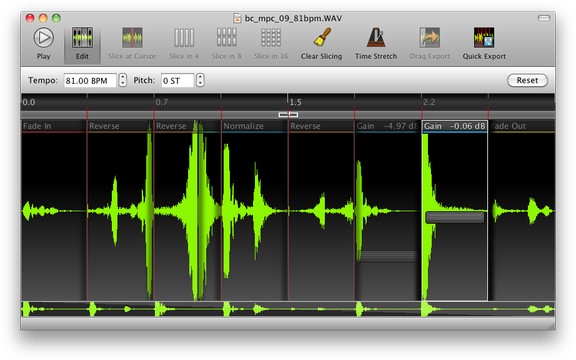 BeatCleaver is a sampling audio editor for chopping beats, recordings, and songs. An intuitive design and fluid interface create a fast, frustration-free workflow for sampling and editing audio. With time-stretching and drag export just one click away, BeatCleaver makes music sampling easier than ever before.

The groundbreaking new RapidEdit™ audio engine takes an innovative new approach to audio editing for a more fluid editing experience. BeatCleaver can now apply and layer edits and effects with instant, tweakable results visualized by the waveform. The days of waiting for rendering and repeatedly undoing effects just to get them right are over – Even fades and normalization can be adjusted in real-time. Combined with the existing slicing and time-stretching capabilities of BeatCleaver, musicians now have a better tool than ever before for remixing drum loops and sampling music.

BeatCleaver 1.4 also introduces automatic tempo detection combined with an integrated time-stretching toolbar for quicker pitch and time adjustments. Musicians can also now export slice timing to a MIDI file as notes (groove extraction) and reconstruct beats later in a DAW.
Changes in BeatCleaver v1.4
Audio Editing, using a new state-of-the-art engine for real-time audio editing and effects (watch the video).
Automatic tempo (BPM) detection.
Easier time-stretching controls.
Slice-to-MIDI functionality.
BeatCleaver is available to purchase for $79 USD / 59 EUR / £54 GBP.
More information: Oscillicious / BeatCleaver