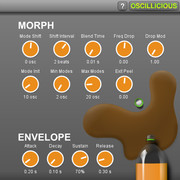 Oscillicious has announced the release of SodaSynth, a VST synthesizer plugin for musicians designed with a clean signature sound.
SodaSynth VST produces a unique clean sound without any filters and effects. Because of SodaSynth's unique sound, this lightweight synth is easy to layer and mix into tracks.

With 5 classic waveforms, up to 32 oscillators per note, full 8 note polyphony, and 37 synthesizer presets, SodaSynth VST provides unique value in a tiny package. An integrated help system is also easily accessible inside the VST to help sound designers understand spectral morphing synthesis and create their own sounds.
SodaSynth features
Dry VST Synth – Shape your own sound.
Unique spectral morphing algorithm to evolve sounds.
5 classic waveforms, up to 32 oscillators per note.
Includes 37 built-in synth presets.
Full 8-note polyphony.
ADSR envelope.
Easy-access help menu puts all the documentation at your fingertips.
Available for Windows and Mac OS X (10.5+, Intel).
A free in-browser demo is available in the Chrome Web Store that brings "native" high-performance audio to the web for the first time. A tablet version, SodaSynth HD, is also now available for Touchpad through the HP App Catalog.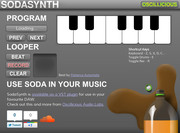 SodaSynth for Chrome brings low-latency live audio to the web as the world's first Native Client application in the Chrome Web Store.

By utilizing Google's emerging Native Client technology, this free version of SodaSynth allows users to jam with the synthesizer in their web browser. An innovative 4-bar live looper with automatic overdubbing is included for fun and easy recording directly off the synthesizer.

SodaSynth HD for the HP Touchpad is the first synthesizer available for the Touchpad, and offers a two octave keyboard with full five-finger multitouch support.

A selection of 21 synthesizer presets are included along with a built-in live looper for quickly brainstorming new compositions.
SodaSynth VST for Windows and Mac is available to purchase for $23 USD. SodaSynth for Chrome is available for free in the Chrome Web Store, and SodaSynth HD is available for $3 through the HP App Catalog on the Touchpad.
More information: Oscillicious