Osiris Synths has released version 2.0 of Cymbiant, an 8 voice polyphonic synthesizer VST instrument for Windows PC.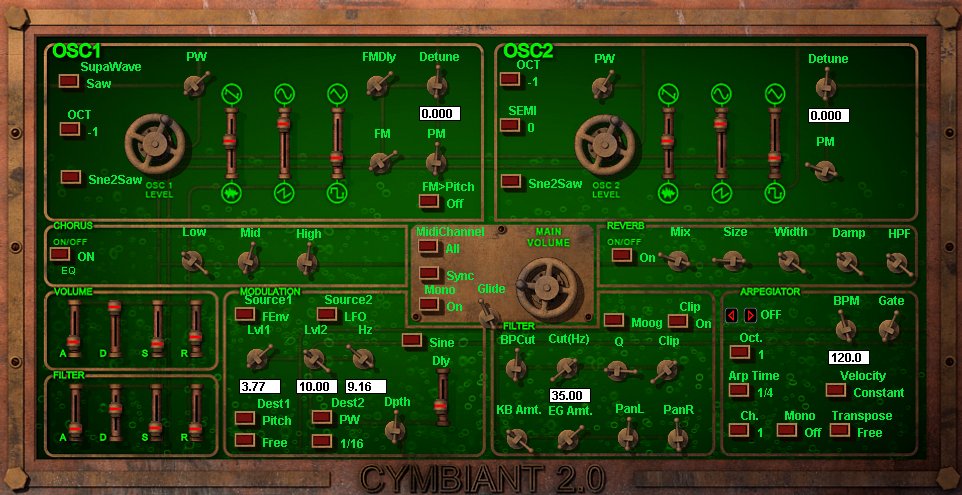 Changes in Cymbiant v2.0
25 new presets by Osiris + 7 in seperate folder. Presets by Murky, S-N-S, Totolitoto & Vim Cortez, 140 presets in all.
Cleaned up sound engine for lower CPU & better sound.
Made the Supasaw a Supawave, modeled after Nord Supersaw. FM modulates Supawave now. Sync on Supawave will still produce clicks.
LFO now has 2 routing choices. More choices added.
Added EQ for better sound.
Added Flanger (To access hidden fx: Click on name of fx in the Chorus FX box. Dropdown list lets you choose, Chorus, EQ, or Flanger.
New skin by Totolitoto.
Delay and other things are planning for Cymbiant 3.
Note: read the included instructions for use of Cymbiant 2.0 on multi-core machines.
Download Cymbiant v2.0 below (5.1 MB)
Osiris Cymbiant v2.0 (Download size: 5.19 MB)
Visit Osiris Synths for more information.