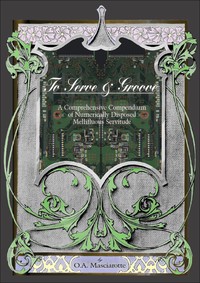 Other Munday Press has announced the publication of To Serve & Groove, the debut book title by author Oliver Masciarotte.
As the throughput of public IP services to the home steadily increases, digital entertainment is rapidly becoming file-based. This trend is most obvious with the proliferation of motion picture and video delivery services, but music is catching up. Now, a wide variety of all genres of music, at higher than Compact Disc resolution, is available for purchase while more is arriving daily. To Serve & Groove walks the reader through this new world of file-based, ultrafidelity music playback in the home.

A guide to digital audio and personal computer-based music servers, To Serve & Groove is aimed at those who love music. One such aficionado and self-described audiophile is John Reekie, co-editor of Hifi Zine. In his review of To Serve & Groove, he states that, "…having read it a couple of times from front to back now, I'm pleased to report that Oliver's book is one that I would whole-heartedly recommend." With a light tone, Masciarotte reports on a wealth of actionable guidance. "Detailed information about computer hardware, music players, disk storage, file formats, and DACs…(fill the chapters)," Reekie stated. "There's a lot in here, and you'll know where to come back to in future when you are stumped with a question."

If FLACs, DACs, Macs and ALACs are causing your head to spin, then settle in with a copy of To Serve & Groove. Oliver Masciarotte, Bay Area author and technical consultant, strove for practical information with a DIY slant. "If you've already dialed in your overall hi–fi rig and would like to start down the path of computer–based audio in the quest for a very high fidelity digital source, then this book was written with you in mind," he said. The technical aspects of digital audio are also explained, and recommendations are given for complete systems within several price brackets.
To Serve & Groove is being made available in hard copy as well as electronic editions, priced at $14.95 USD and $4.99 USD respectively.
More information: Other Munday Press