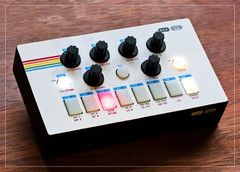 Oto Machines has introduced Der Oto, a new firmware for its Biscuit sound effect processor for producers, djs, musicians and sound lovers.
Der OTO is the new Biscuit firmware (revision 2) and turns your Biscuit into a monophonic synth.

You can play Der OTO with a standard MIDI keyboard, a computer with a MIDI interface or the internal sequencer.
Der Oto features
2 oscillators (Saw, Square, Sine, FM, Noise).
1 LFO (Triangle, Square, S/H).
1 envelope Generator (ADS).
16 step sequencer (Note, Length, Glide, Accent).
The Der Oto firmware is a free download for Biscuit users.
More information: Oto Machines