Plugin Boutique has announced a sale on the Movement plugin by Output, an exciting and powerful effects engine that adds simple to mind-bending rhythms to any input in real time.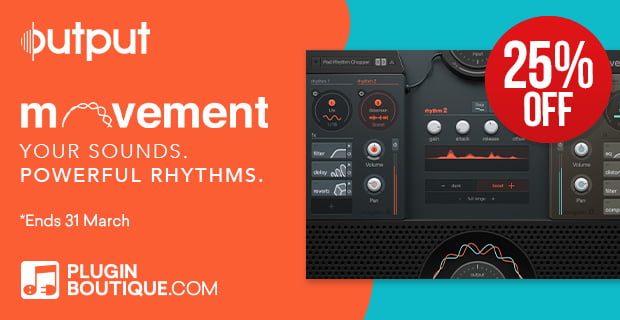 MOVEMENT is an efects processor designed to add rhythmic, textural motion to audio. MOVEMENT can modulate up to 38 parameters at once from four independent sources, which we simply refer to as 'rhythms.'

A rhythm could either be an LFO, step sequence, or external signal fed to MOVEMENT's sidechain input. MOVEMENT duplicates the input signal and routes these signals to two identical efects engines. Here, audio passes through a chain of FX, and is then summed back together with the signal from the other engine. This summed signal is then sent to MOVEMENT's stereo output.
Movement features
300+ Presets for instant playability.
Input any sound, instrument or track.
Modulate any parameter with any rhythm in real time.
Sidechain, LFO, Step Sequencer rhythm modulation.
Output's proprietary Flux and Randomizer.
Advanced sidechain modulation – modulate any parameter.
Analog filters, EQ, delay, distortion, compression and reverb effects.
XY pad for performance.
Built for live performance and for the studio.
Simple design and ease of use.
Movement is available in VST/VST3, AU and AAX plugin formats. Regularly $149 USD, it is on sale for only $112 USD until March 31st, 2019.
More information: Output