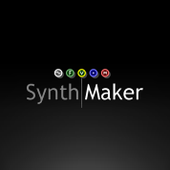 Outsim has released SynthMaker 2, an updated version of its audio programming tool for Windows.
The headline feature is Multi Sample Support. For a long time creating sample based products in SynthMaker has been an intricate and time consuming process. The new Multi Sample modules change all of this and make the process an absolute breeze.

In addition to Multi Sample support we have a fresher look, a refined filter bar, a host of small changes and enhancements under the hood and a collection of new modules and primitives to make life easier. There are enhancements to the Exe export, new code component functions, support for Wiimote input and some big improvements to host compatibility particularly in Steinberg Cubase.

There are other changes too. You'll see that the downloads are all accessible through the forum now. So you only need to log in once and everything is in the same place. Also we have a new product structure including a FREE version which has no time restrictions. There are other limitations of course but they are generous in allowing you to explore the software fully before deciding to buy.

When you make that decision you can choose between the slightly limited Enterprise or the all singing, all dancing Professional Edition. All Standard and Personal edition users who upgrade will move to the Professional edition.
SynthMaker 2 for Windows is available to purchase for £95 GBP (Enterprise) / £195 GBP (Professional).
More information: SynthMaker