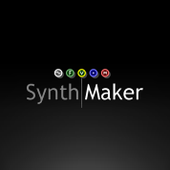 Outsim has released version 2.0.2 of SynthMaker, an audio programming tool for Windows.
This release contains some final corrections to the automatic stage conversion.

Most of the changes apply to Assembler components so if you're not using these then you won't be affected. The main point of the corrections made is to ensure that older files containing Assembler components will have any stage1 declarations automatically changed to the new default of stage2.

Also in this update they've brought in a new component which was previously on the R&D list. The Save Wave component allows you to save to a wave file. They've improved this component compared to the R&D version by adding sample format options and fixed the few remaining bugs too.

Finally the automatic update check had a few issues with the last release. These should be resolved now although anyone moving from version 2.0 or those who grabbed an early 2.0.1 may see an incorrect product name on the update dialog box. This has no effect on the process and has been corrected in 2.0.2 ready for 2.0.3.
SynthMaker for Windows is available to purchase starting at £95 GBP for the Enterprise edition. A free version is also available to download from the Outsim website.
More information: SynthMaker