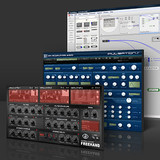 Outsim has released version 1.1.5 of SynthMaker, an audio programming tool for Windows.
This new release massively improves compatibility with Windows 7 & Vista User Account Control (UAC). In addition, we have a number of other fixes and enhancements that continue to improve reliability.
Changes include a fix to prevent sound glitches and crashes with exported exes on some P4 systems, much quicker copy and paste in large schematics and case sensitive syntax colouring in the code component.
Changes in SynthMaker v1.1.5
Better compatibility with Windows 7 & Vista UAC so there's now no need to run as admin.
Moved user modules to user local folders so new modules are saved/deleted to there but old ones remain where they are now.
Fixed a bug where undo in text components was not working under certain circumstances.
Fixed a bug in the Delay by One Sample component. A chain of n of these was delaying by n-1 instead of n.
Corrected an issue with continuous Mouse Move messages when the task manager is up.
Added stereo input option to Mem Create to allow it to be used correctly with Wave Write Stereo.
Wave Write components now take plain mem inputs like all other mem components.
Fixed a bug which was causing very slow copy and paste in some large schematics.
Corrected a problem with cut and paste that could result in incorrect module syncing.
The Code and Assembler components now take account of case when syntax colouring.
Fixed a problem with exported exes on P4 machines where either no sound was being let through or the exe was crashing.
Updated the example synth schematic to replace superceded components in the ping pong delay.
SynthMaker is available for Windows PC, priced at £65 GBP / €95 EUR / $133 USD for a personal license, and £125 GBP / €185 EUR / $255 USD for a standard license.
More information: SynthMaker