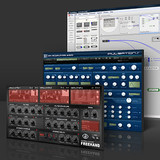 Outsim has released version 1.1.7 of SynthMaker, an audio programming tool for Windows.
This is another big bug fix release.

There are some fixes to allow better compatibility with hosts like Cubase. Mouse tracking has been improved in exported plugins and a long running issue with sysex occasionally failing has been sorted.

We've improved the audio code sizing so that it's more efficient and the 256 component limit on modules no longer exists.
Details on what is new in version 1.1.7 are available on the SynthMaker website.