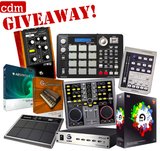 Create Digital Music has an amazing giveaway, where you could win many prizes! (well one prize to be exact, since each winner gets one prize)
The big giveaway: We've got over US$4,000 of our favorite hardware and software to give away, courtesy a hand-picked selection of giveaway sponsors: Ableton, Akai, Alesis, Glyph, Moog, Native Instruments, Numark, and PreSonus. We've even got an Akai MPC500 to give someone for free. If you qualify, all you have to do is enter for a chance to win.
Unfortunately non-US residents won't be able to win any big prizes but you can still enter and perhaps get your website mentioned.
The contest ends June 11, 11:59 P.M. NYC (US-Eastern) time, so enter now! Check CDM for more information.