Overloud has announced the release of Comp LA, an audio effect plugin that brings the recreation of two legendary optical compressors, the LA-2A and LA-3A from Teletronix/Urei.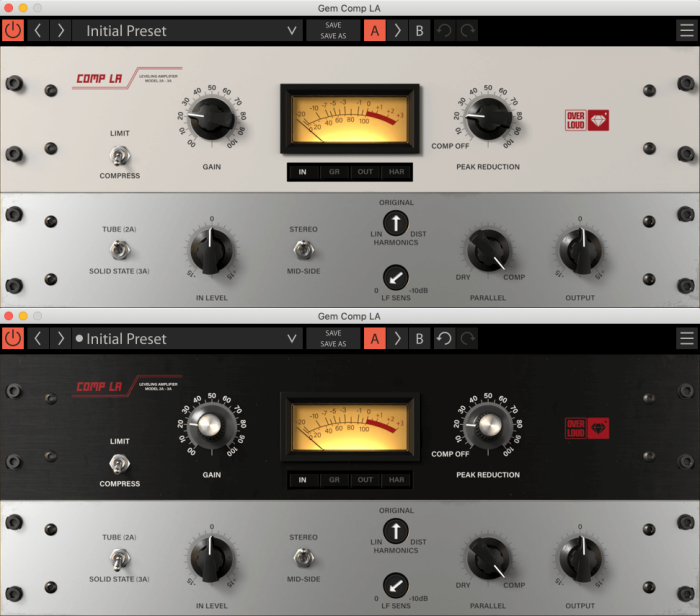 At the heart of the original units there is a photo-cell coupled with an opto-attenuator. The photo-cell provides a very natural dual-stage release which results in a very characteristic compression response, more transparent than that of other compressors.

The plugin recreates both the 2A and the 3A models. The 2A version is tube-based and delivers a warmer, harmonically rich tone. The 3A version is solid-state based and has a faster attack, cleaner tone.

The Comp LA extends the features of the original hardware and joins the flexibility of the digital world to the character of the analog processing.
Comp LA features
Built-in Mid-Side Processing.
Built-in Parallel Compression.
User-controllable harmonic generation amount and metering.
LF sensitivity (R37) control.
User-selectable Ultra Oversampling mode.
Low CPU usage: more than 500 instances on a Macbook Pro Retina.
Multilevel undo-redo.
A/B Comparison.
Scribble Strips: take notes anywhere on the plugin panel.
Meter Calibration: calibrate the VU meters at 4 different sensibilities.
Comp LA is available in VST, AU and AAX plugin formats, as well as a stand-alone application for macOS and Windows.
The plugin is on sale for the intro price of 79 EUR / $89 USD until September 30th from Overloud and distributor PluginFox. The list price is 129 EUR / $139 USD.