Overloud has announced the release of a new GEMS series effect plugin that is modeled after a renowned American EQ created with custom op-amps, the API 550.
The EQ550 extends the features of the original hardware with a band cue that allows you to hear the part of the frequency spectrum that is being affected by that band, a continuous frequency selection to select all the intermediate frequencies, and an additional mid band.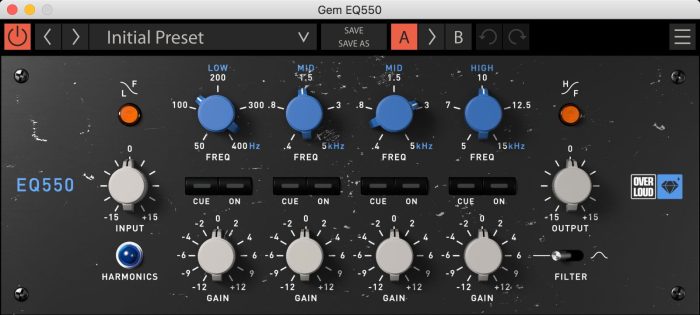 It has a Proportional-Q design, meaning that the bandwidth of the filters becomes narrow when the gain of the filter increases. For low gain settings the EQ delivers a smoother tone: its character becomes more and more aggressive when the bands gain band is raised. This design makes the EQ550 unique.
EQ550 features
Hyper-realistic simulation of the original Proportional Q equalizer, thanks to the 4th generation DSP technology.
5 bands eq: 2 shelving/peaking, 2 peaking, 1 bandpass.
Individual band Cue.
Continuous frequency selection.
Simulation of all transformers in the original unit.
Low CPU usage: more than 1500 instances on a Macbook Pro Retina.
Multilevel undo-redo.
A/B Comparison.
Lots of presets designed in real mixing sessions.
Scribble Strips: take notes anywhere on the plugin panel.
EQ550 is available for Windows and Mac (VST/AU/AAX), priced at $139 USD.
Until March 18th, Overloud is giving away 1,000 licenses for free each day to registered Overloud users (registration is free).
More information: Overloud