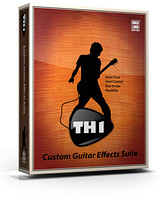 Overloud has released version 1.1.1 of TH1, a custom guitar effect suite for Windows and Mac.
Changes in TH1 v1.1.1
Fixes

Installers on Mac now always work properly.
Leds on amplifiers sometimes were not working properly.
Tremolo Intensity range is now correctly displayed (0 to 10).
fixed a bug leading to random crashes when closing a dialogue window.
fixed a bug that lead to a 'static' (stuttering due to continuous rettriggering) LFO behavior when some hosts were not in play.
both Internal and Variation BPM can be dragged to Smarts and 'tappable' both from the GUI and via MIDI.
now Spatial and Comb Delay are correctly recalled.
when saving a MIDI Binding, the saved preset is automatically selected in the preset display.
fixed a small bug in diode-based pedals (Tube Nine, Diode 250, etc…).

Enhancements

Module presets are now organized and browsed for in an alphabetic order.
optimizations in the Variation loading processes which should lead to a faster loading of the GUI when switching presets; the audio engine switching is seamless as before.
added a preference to limit editing (dragging and loading modules and double click to bypass…) in the Overview.
added a dialogue in the Browser when trying to overwrite a Variation, Sound or Bank. These operations when done in the Browser are always destructive.
added a preference to deactivate the above-mentioned Browser window dialogues.
Added credits for Recabinet and Wild Hades (Impulse Responses).
in Smart Connections window, when in Step mode, 'apply to all' arrows were added to ease the job.
TH1 is available for Windows and Mac for 249 EUR (worldwide) / $349 USD (USA and Canada). The version 1.1.1 update is free for registered users. A 14-day full-featured demo is available for download here.
Visit Overloud for more information and audio demos.