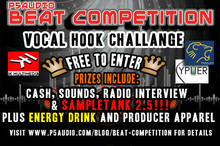 P5Audio has launched a new beat competition: Vocal Hook Challenge, a challenge for music producers to create a vocal hook using vocal samples from P5Audio's Female Radio Ready Vocal Chops.
It is FREE to enter, and music producers are provided with FREE samples from P5audio's Female Radio Ready Vocal Chops sample sound pack.

Prizes include cash,software from IK Multimedia, music samples and music loops from P5audio.com and more…

"Our beat competitions are all about community," states David Whiteside, President of P5Audio, "We have prizes for who we think makes the best beat, the producer with the best youtube video explaining how they made their beat, and a listeners choice prize"
The deadline for submissions is May 7, 2010. Winners will be announced on the P5Audio Blog on May 28, 2010, and the Listeners Choice Winner will be announced on Wednesday June 3, 2010 on Cypher Lounge Radio.
More information: P5Audio / Beat Competition: Vocal Hook Challenge