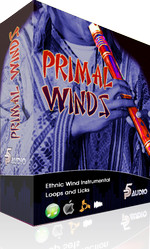 P5Audio has announced the release of Primal Winds Loops and Hustla Vocals Vol. 3, two new sample libraries.
Primal Winds delivers are a series of world flute and wind instruments containing 102 individual freaked out loops and 225 chopped licks played by real live ethnic wind players, using authentic flute and reed instruments from around the world.

Trying to create as many wild out sounds as possible, these world music loops and chops are perfect for music producers and beat makers looking to integrate live ethnic sounds into their own music production, ROYALTY FREE!
Primal Winds features
102 individual WAV loops total plus 225 individual chopped licks, spread across the keyboard for quick sampling use, and formatted for popular software samplers including Exs-24, Reason NN-XT, Halion, Battery, Kontakt and Sampletank.
Recorded using class A mics, Neve and Avalon pre-amps, and Apogee Rosetta A to D converters, Primal Winds Loops and Chops delivers music makers spectacular audio quality loops at an amazingly affordable low price.
Ethnic wind instruments featured in this product are: Antler Horn, Pakistani Rosewood Flute, Ney Flute, Korean Piri, Peruvian Flute, Vietnamese Horn, Duduk, Chinese Flute, Bansuri and Indian Flute.
Key signatures and tempos are provided for each individual loop.
All of these royalty free chops are arranged by instrument and tempo.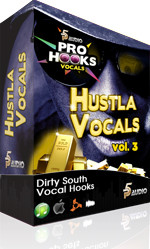 P5Audio has also released Hustla Vocals Vol. 3, the latest sample pack in the Pro Hooks series.
Picking up where volume 1 and 2 left off, Volume 3 gives you yet more Hustla style Vocal Hooks from our new Pro Hooks line!

Pro Hooks music loops are Loop Sets with live VOCAL hooks ADDED!

These 5 amazing hip hop vocal hooks give producers authentic vocal swagga, perfect for elevating your hustla style tracks to a radio ready level!
Hustla Vocals Vol. 3 features
Five construction multi-tracked Loop Sets with both instrumentals AND Vocal Hooks! 102 individual loops total.
5 fully produced live urban hustla hip hop vocal hooks.
This particular Pro Hooks volume is inspired by the Hustlas of the Dirty South including Lil Wayne, Young Buck, Gucci Mane and more!
Includes multi-tracked Auto-tuned T-Pain style vocals, screwed vocals, chants and phrases.
All parts are seperated including all the 'Dirty South fixins such as multi-tracked Drums, Bass, Viper synths, Brass and more.
All of these music loops and hooks are royalty free.
All tempos and keys are provided.
Primal Winds and Hustla Vocals Vol. 3 are available to purchase as a download for $19.99 USD each.
P5Audio has also announced the launch of a new Beat Competition, a year end beat contest with cash prizes, apparel from Marc Ecko, free sounds, producer T-Shirts, and more.
The challenge: Using ONLY sounds from the FREE sample sounds zip file provided below, make a HOT track in any urban genre! Hip Hop, RnB, Pop, Electro, Hybrid Rock, anything urban style goes!
The deadline for submitting your entry is December 3, 2010.
More information: P5Audio