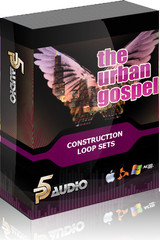 P5Audio has announced the release of The Urban Gospel, a new collection of loop sets.
Urban Gospel Music may have it's roots in Blues Music, but through they years it has changed with the times going from Disco Music to funk, jazz and many other mainstream genres. This collection is the modern incarnation of urban gospel.
The Urban Gospel features
Influenced by artists and producers such as Kirk Franklin, Deitrick Haddon, KiKi Sheard, Mary Mary and more.
15 Loop sets with over 200 individual parts total . 10 of these loop sets are grouped into pairs giving you the option of using them as 5 section A and 5 section B songs! Mix and match them however you like, it's up to your genius to lead you.
Instruments include Live and sampled keys, multitracked drums, B3 organs, bass lines, live and sampled guitars, vocal samples, fx, percussion, synth and more.
All Parts are seperated and royalty free.
All Keys and Tempos are provided.
The Urban Gospel is available to purchase as a download for $33.99 USD.
P5Audio has also announced a new Flash Beat Contest, a short, simple, "mini" beat competition where you have the chance to win some prizes by creating a beat from some free samples from P5Audio's Hood Runnas Music Loops release. Details here.
More information: P5Audio / The Urban Gospel