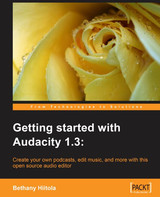 Packt Publishing has released Getting started with Audacity 1.3 by Bethany Hiitola, a book on how to create your own podcasts, edit music, and more with this open source audio editor.
Using the Audacity software as the starting off point, we discuss what the software is, what it can do, how you can use it, and where you go to get started installing it. All of this information is grounded in some basic audio editing terminology and background for those that aren't so technology inclined.

Then we'll start digging into a sample project! You'll learn about how to set up a project, create a voice track, record an interview with Skype, and basic audio editing techniques. All of this done in an easy to follow, task based approach with lots of examples. Here, we plan to go a step further, we teach how to wrap all of these steps together and create a podcast that can be posted on your own website or blog.

There's always more you can do with Audacity! The last portion of the book is dedicated to just that – discussing more advanced editing and mixing techniques, using affects, adding music, adding additional plug-ins to the software. All still incorporating examples and easy to follow tasks you can try on your own audio projects.
Getting started with Audacity 1.3 is available to purchase for $35.99 USD.
More information: Packt Publishing / Getting started with Audacity 1.3 (Amazon)