Parawave Audio has released version 1.1.0 of Rapid, a synthesizer instrument that combine multiple synthesis layers to achieve powerful and dynamic sounds.
The update includes support for custom user libraries, making it possible to simply and quickly import own sound material via drag & drop or a file chooser. Support for custom wavetables, multi-samples and sample resynthesis has been added.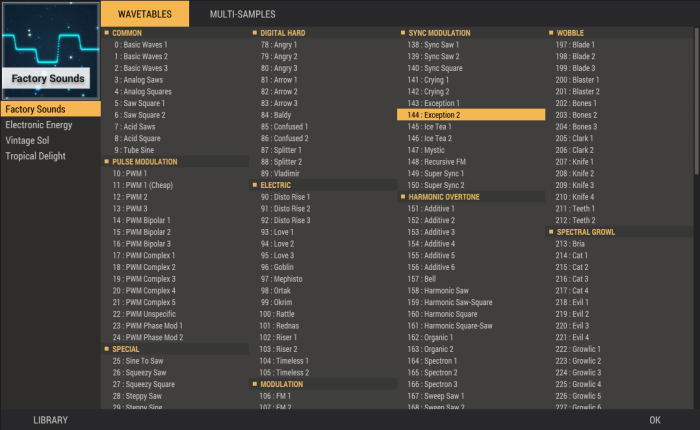 User Libraries
It's now possible to create, manage, archive and install custom sound libraries. The imported sound content can be named and sorted into user-defined categories. Additional metadata can be specified in a new information tab. Easy versioning and sharing with other users is encouraged by an easy to use publish feature, which quickly bundles a library in a self-contained ZIP archive, install-able via a new Library > Add… feature.

Wavetables
Addable are single- or multi-cylce wavetables with constant frame sizes (e.g. 2048 samples *cough* Serum *cough*). Internal re-sampling and stretching loads and plays all waveforms without aliasing. An optional "de-click frame" feature reduces unwanted buzz noises if realistic non-wavetable content is loaded. It's now an easy thing to import real instruments at e.g. C4 and re-sample it into a high quality RAPID wavetable.

Multi-Samples
Convert and load single- or multi-samples with different velocities and round robin. An automatic note detection recognizes the embedded MIDI unity note information, or identifies a note token within the filename and assigns the samples to the key map. The content is compressed and optimized for load times. For example, an uncompressed piano multi-sample with a filesize of 197MB only uses ~50MB after import.

Resynthesis
A special resynthesis algorithm allows the creation of new exciting synthetic textures by manipulating the spectral content of any source sample. This method pre-renders and compresses the re-synthesized material at different pitches into a multi-sample. A new source of inspiration and a creative tool for all new-kinds of sound design techniques.
Changes in Rapid v1.1.0
New source browser design.
Support for user content libraries.
Wavetable import (incl. resampling to table root frequency).
Sample import (incl. loop points, at any input samplerate).
Sample Resynthesis. Converts the spectral content of an input sample into a multi-sample.
Drag & Drop sound files onto oscillator displays to quickly import new content.
Auto map multiple input samples to the whole keyboard range.
Import formats (RIFF WAV, AIFF).
Sortable and renamable source browser categories and entries.
Separate Wavetable & Multi-Sample tabs.
Remove modulation option in context menu now shows all routings of a control.
Fixed: Tooltips typos.
Fixed: Default VST program name, needed for some VST hosts/wrappers.
Fixed: Increased loop wrap accuracy.
Fixed: Left and right channel was swapped during resampling.
Fixed: Sample playback preview now shows the actual waveform when oscillator keytrack is turned off.
Reduced Wavetable load times.
Reduced Multi-Sampler load times.
Faster drawing for source browser entries.
Removed some runtime allocations.
Reduced preset parser load times.
Removed Multisample pre-render Quality option. There was no real improvement on high setting.
Rapid for Windows and Mac (VST/AU) is available for 149.99 EUR ex. VAT. The update is free for existing users.
More information: Parawave Audio / Rapid