Parawave Audio has released an update to the Rapid software synthesizer instrument.
Version 1.8.0 adds a new granular synthesis oscillator source, improves the preset loading time, and includes a free Granular Elements bonus sound package.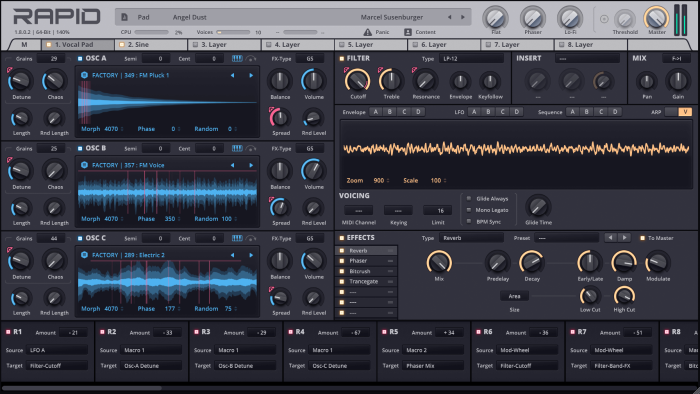 Granular synthesis comes in the form of a new sample-insert-effect, which can be chosen in the FX-Type section after selecting a sample. This oscillator mode creates many small sound particles from a source sample and blends them together in a grain cloud. You can use up to 100 true stereo grains per oscillator.
Rapid uses high quality wavetables to achieve a clean sound and avoid unpleasant aliasing artifacts. While loading these wavetables or samples, additional processing and decoding is needed to unpack it from disk into the application memory. With Rapid 1.8.0 this process was drastically improved and optimized to use the newest processor instructions. With this enhancement Rapid will load up to 10 times faster than the previous version.
Changes in Rapid v1.8.0
Granular Synthesis.
Value indicator in the top information display now shows the value of the lastly changed parameter.
Dropdown parameters (e.g Filter Type) now support the mouse wheel input to quickly scroll through values.
Force Loop options is now available when importing singe samples without a loop.
Massively reduced wavetable load times.
Multi-Sample loading improved. Decoder is now multi-threaded.
Voicing display waveform sample rate is now synced up to the currently played note.
Master Compressor now displays the gain reduction curves if active.
Added Constant and Constant x 0.1 to context menu modulations sources.
If a sample is shown in the oscillator display, the phase position is now settable by clicking into it.
Increased maximum number of preset author characters from 16 to 24.
Fixed: Phase Bend Mid A table calculation was out of range at 180 degrees.
Fixed: Very short duplicated note on/off events within a buffer got stuck at the end of pattern loops.
Fixed: Allow internal stereo processing if plugin is inserted on mono channel configurations.
Fixed: Show "bypassed" warning instead of license check button.
Fixed: Blurry context menu icons are now sharper at scales above 100%.
Fixed: Avoid visible waveform glitches in voicing and multi-band display.
Fixed: If monophon, legato, always glide off and voice is in release state, don't glide the note pitch.
Fixed: The initial aftertouch value of new arpeggiator notes is now correctly redirected from the previous note.
Free sound package "Granular Elements" with 155 Multi-Samples and 59 Sounds Presets.
Rapid for Windows and Mac (VST/AU) is available for purchase for 179.99 EUR. It is on sale at a 30% discount until August 17th, 2020.
More information: Parawave Audio